A few weekends ago, we headed down to Destin, FL for Bob's BFF's wedding. We arrived late Friday night, searching for the condo in what I would call hurricane-like weather! The rain was pelting the windows sideways, and coming down hard. Unfortunately, this was a preview of things to come...
Mike (Bob's brother from another mother), and his now-wife, Brandi planned a beautiful wedding. While the guest list was small, at under 20 people, the wedding incorporated everything you'd see at a large-scale wedding and reception.
A beautiful beach ceremony, at sunset was planned. But, this was what the weather looked like...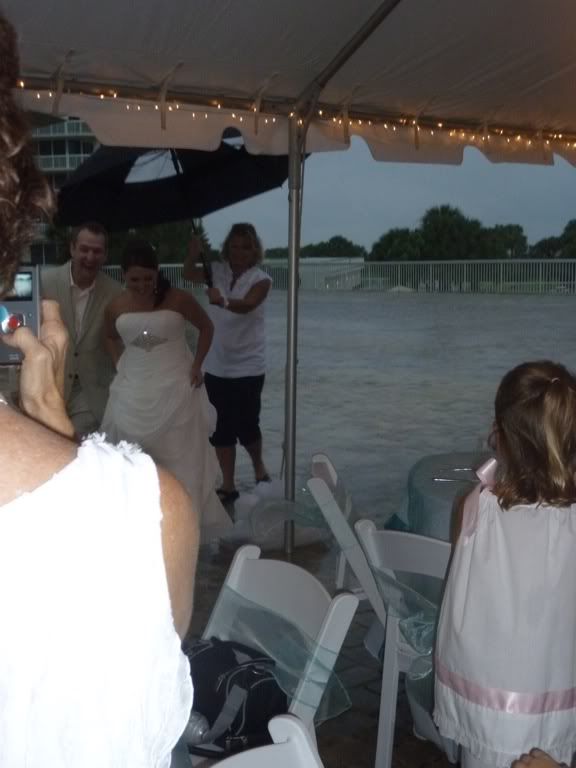 It looks like there were waves of water on the condo/resort's terrace. Sadly, it basically got to that point.
So, in an effort to get those nuptials ON, the ceremony was moved indoors.
The groom watching his bride walk down the aisle:
The bride and her daughter, Ryen, walking down the aisle. (Notice Bob in the background. Bobby was not on his best behavior at this point, and we had to take turns holding him outside, or in the back.)
All the kiddo's in attendance:
So, this picture pretty much sums up how the reception went. It was hellishly windy, rainy, and storming. Everyone was a good sport, and grinned and beared it. (Side note: the reception was outside, under a tent).
The floor started to flood.
Umbrellas were opened.
Pants were rolled up.
Eek!!! Look at the bride's gown!
Finally, after dinner, and during the first dances, lighting struck just a little too close to home. The party was moved indoors, with the cutting of the cake and toasts.
The bride with Bobby:
With the torrential downpour these two experienced on their wedding day; they are going to have the best luck in their marriage.
Congrats to Mike and Brandi!