We went down to Florida a couple of weeks ago to visit family. Well, Bob actually had to attend a conference for work, and Bobby and I stayed with my parents. We were there for just three whole days. Because of Bob's work, we couldn't leave Birmingham until 2pm on Wednesday afternoon. We arrived in Orlando around 1am, ready and willing to hit the sack.
Bob didn't have to be at his conference until dinner time on Thursday, so we were able to spend the day together. We visited with my best friend, and her little girl, Bryn. Bryn turned one in December, and is just as cute as can be. This picture of Lisa and I is actually from our visit in January. The one from this actual day turned out hideous (of me), so I'm not posting it!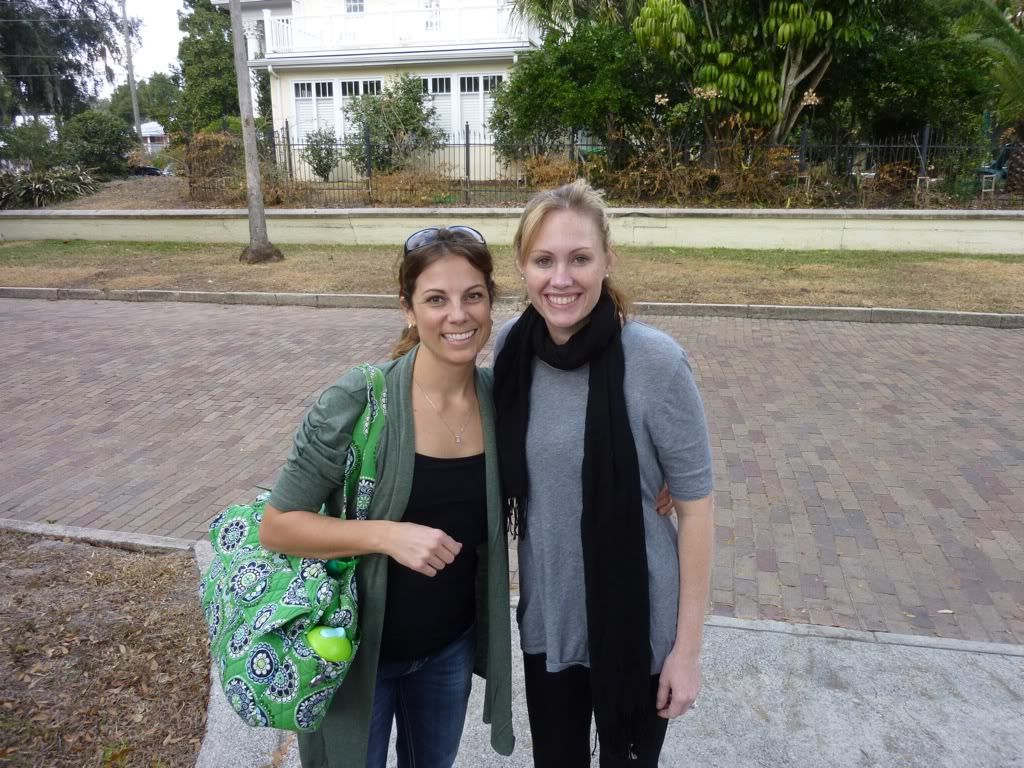 After our visit, we ran a few errands and headed back to my parents' house. Bob soon left for his conference, and Bobby and I hung out with my dad, and their new dog, May-May. No, my parents did not name their dog that, but she was a rescue lab, so the name sticks. Bobby loved May-May, and said her name all weekend long. It was pretty cute. That night, my sister came over for dinner, and we enjoyed each other's company.
On Friday, my mom took off from work, and we spent the day together. We started off by doing a little shopping in the morning. Each season, my mom has done a pretty good job of starting Bobby's wardrobe. This trip did not fail - we hit up Gymboree and The Children's Place, and walked out with a ton of stuff. Thanks Mom!
I made an appointment with my old stylist before leaving Birmingham, and was able to squeeze in a haircut too. My mom babysat for me. Oh, the simple pleasures!! After the day was done, my parents, Bobby and I, and my sister went out to eat.
Saturday morning came, and we headed out to Oak Haven Farms, in Sorrento. Sorrento is about 45 minutes away from my parents house (which, is actually 20 minutes north of Orlando). Oak Haven is a strawberry picking farm. This little adventure included my mom, sister, Bobby, and my brother's family (wife + 4 kiddos).
My niece Meagan, and my sister Kathy.
My family picking away!
My niece Ava.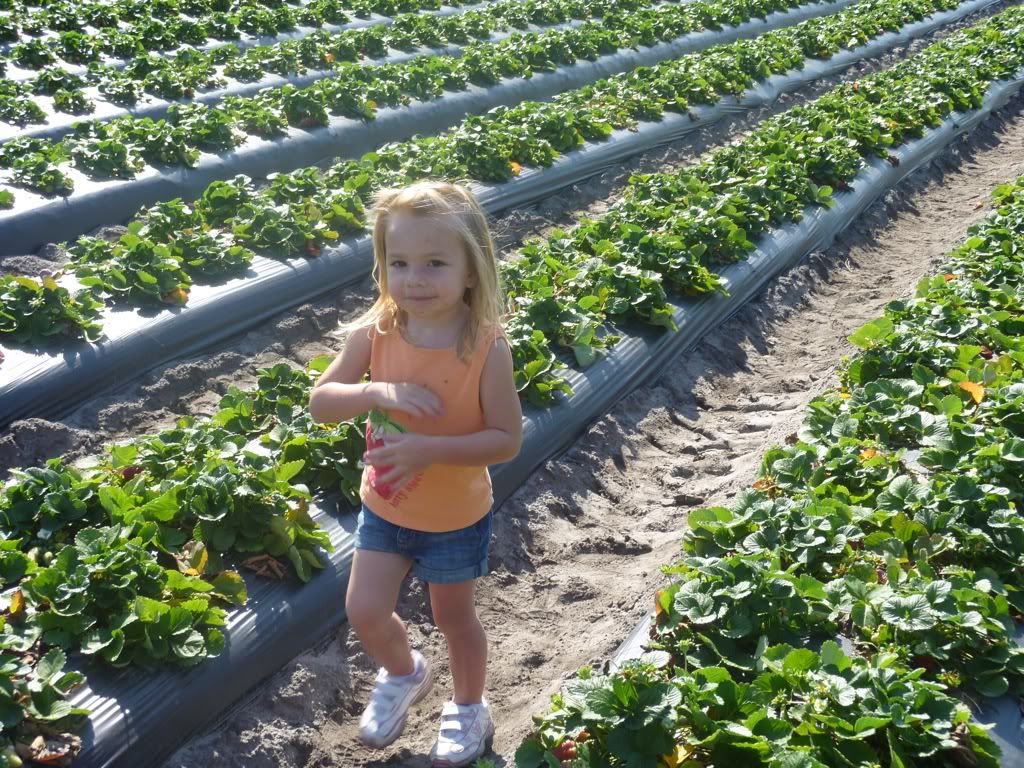 Bobby sampling the goods.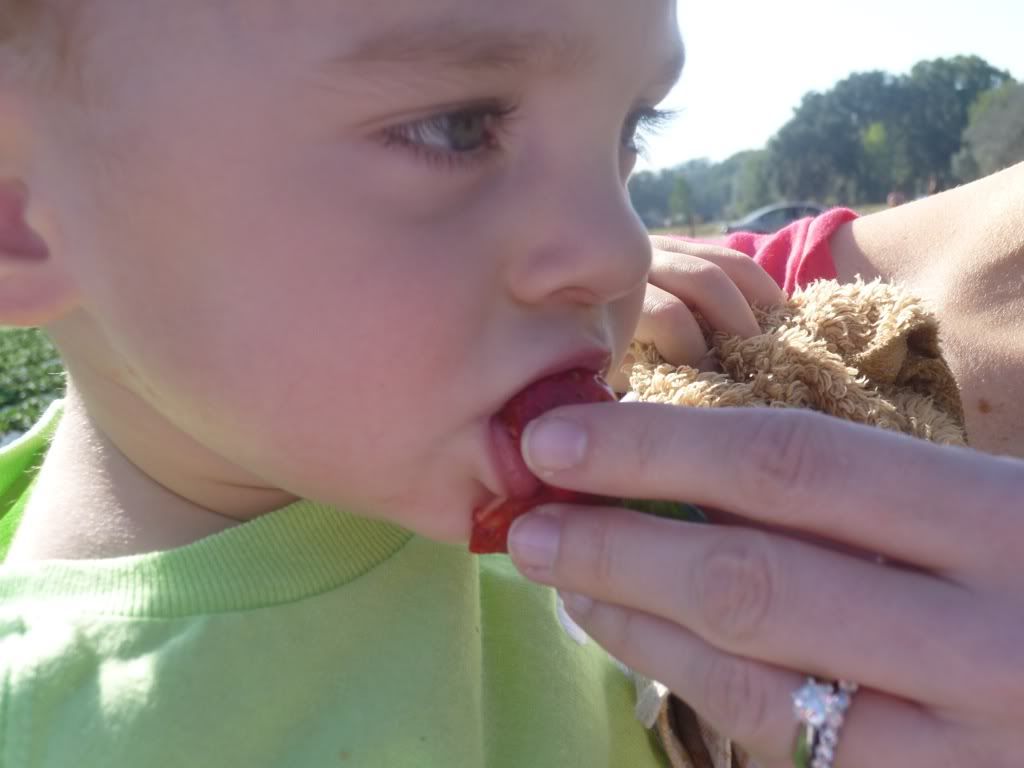 My mom and sister took my two younger nieces on a hay ride.
We grilled hot dogs for lunch!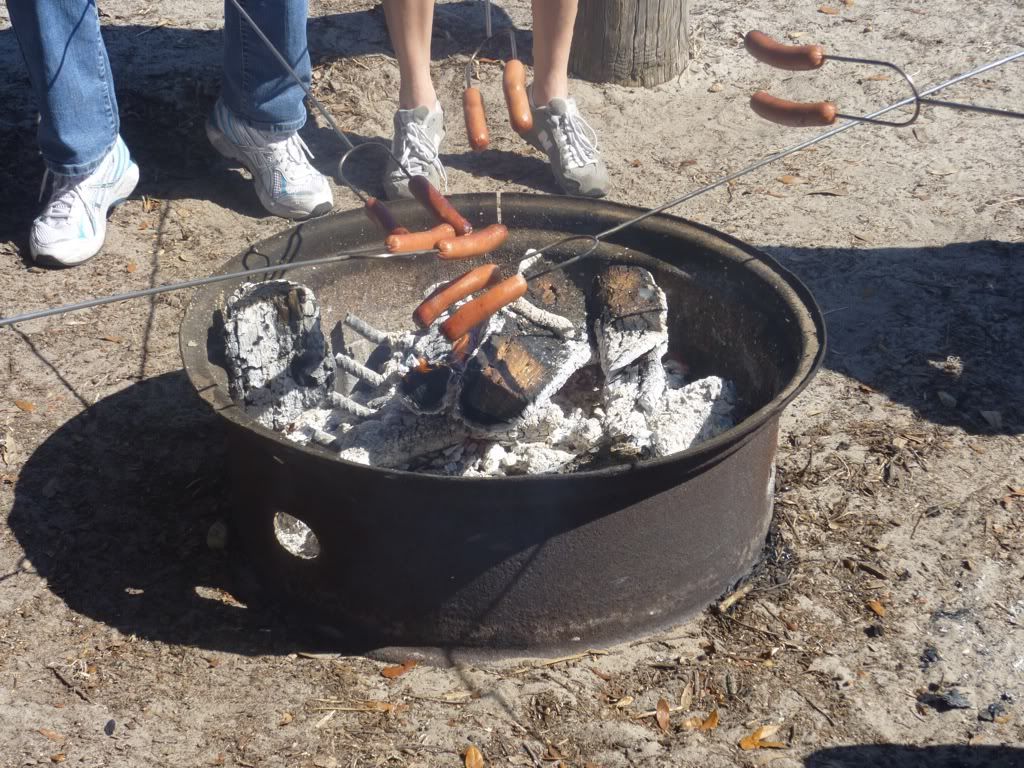 We also did a wine tasting while there, and brought home a couple of bottles to have with dinner that night. Bob's conference ended around noon, and he met us back at my parents' house. We later went to my brother's for a delicious dinner!
We added our picked strawberries to our wine that evening...
Bobby played with his cousins outside, and was in heaven! He loves these little playhouses. He's always in the one at the church nursery, where I go to Bible Study.
Silly boy.
Playing on the swingset in the backyard.
We called it a day, later that evening and crashed. We then headed back home to Birmingham, the next day. I really enjoyed our visit this time (not that I normally don't). I think I felt a little bit more homesick than usual, this time around. I wish so badly that I lived around family, and the weather... Oh, the weather! It was spectacular while we were visiting.
Until next time...